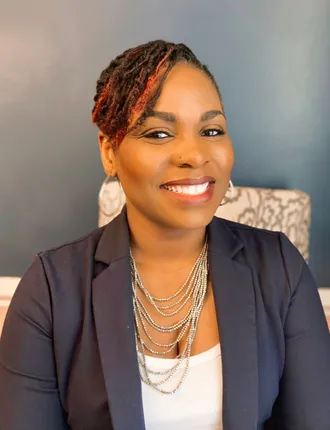 E. "Ebbie" Henderson (she, her, hers) is the director and founder of Progress Over Perfection, BHS. Licensed as a Practicing Counselor Associate (LPC-A), Ebbie graduated from Northwestern University with a MA in Clinical Mental Health Counseling. Prior to becoming a mental health counselor, Ebbie used her BS in Behavioral Science (psychology, anthropology, sociology studies) to assist and advocate for disadvantaged population including persons with disabilities.

As a mental health counselor, Ebbie is passionate in assisting clients in achieving their goals in becoming better versions of themselves. Using a personalized integrated approach, Ebbie collaborates with the client in developing their treatment plan/goals and emphasizes the therapeutic alliance throughout sessions. Ebbie has observed in utilizing this approach, clients not only strive to reach their goals, they become invested in themselves.

In addition to her degrees, Ebbie is a National Certified Counselor (NCC), a SYMBIS counselor, and has completed training for Gottman Couples Counseling (levels I & II). She has certifications in Conflict Resolution, 1st Aid Counseling, and experience with working with various clients.

When Ebbie is not counseling, she is enjoying action/adventure movies, neo-soul music, hanging with friends/family, traveling, and napping when time allows.
"Little by little becomes a lot."
~ Anonymous